Santa Ana Bail Bonds
Steven Mehr Bail Bonds
2222 East First Street
Santa Ana, CA 92705
714-543-7449


If You Need A Reputable Agent in Orange County, Call Us Today!
In Santa Ana, a bail schedule is often used to set a person's bail if they are arrested in the Orange County area. The bail schedule was created by local judges and is designed to streamline the bail bonds process. The schedule assigns specific amounts of bail for each specific type of charge and its seriousness. Bail can be expensive and most people don't have large amounts of cash sitting around that they can tie up in a bail bond. We charge a non-negotiable, non-refundable, 10% premium fee. The fee is 10% of the total bail amount and is used to compensate the agency for their service, once the court case is finished. We are capable of writing bonds for a variety of criminal offenses:
All misdemeanors

All felonies

Domestic violence

DUI
The Steven Mehr Bail Bonds website offers several resources our clients can use, whether they live in Orange County or other areas in California.
The charge shouldn't be of any concern. At Steven Mehr Bail Bonds, we are here to write bail bonds and make sure your loved one is on their way home as soon as humanly possible. Whether you have been arrested for a DUI or an assault charge, the booking process is exactly the same. After your arrest you will find yourself in one of two places, the Santa Ana Jail or an Orange County Sheriffs' Department station. If it takes longer than normal to post the bond, the defendant may be transported to the main jail in Orange County. If this happens, it can take several hours to obtain the release of the defendant. Depending on the charge, the defendant may have to be arraigned in front of a judge.
You Need A Reputable Bail Bonds Agent in Orange County? Call Us!
In Santa Ana, our agents are above reproach. The agents of Steven Mehr Bail Bonds work hard to provide the best service possible at the most affordable rates. We have been in business over 88 years. Each year we have continued to gain the trust and respect of the people we serve.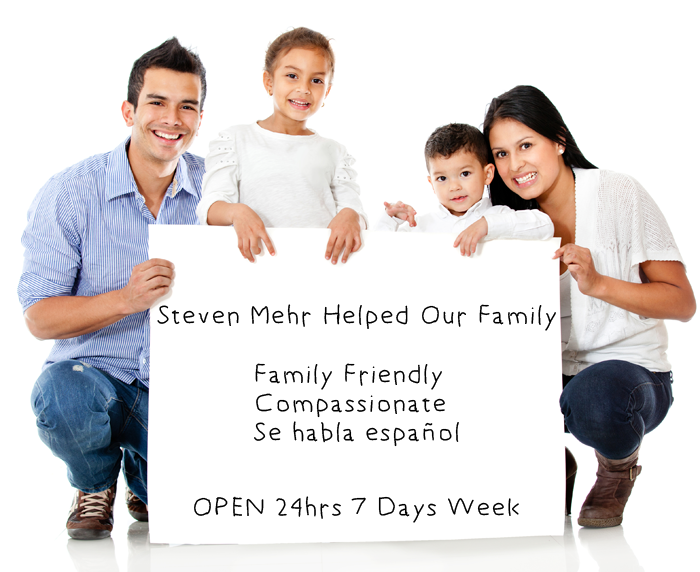 Our Bail Bonds Staff Located in Orange County are Professional and Knowledgeable
We are highly recommended because of how hard we work to find solutions for the people who hire us. It isn't always easy to come up with bail money. We work with our clients to create solutions that work for them. For 88 years, we have made a conscious choice to be better than other bail bond agencies in the Orange County area. That is why we offer the following:
Low, affordable down payments

Signature bonds

Free consultations and information

Mobile service for people on the go

Flexible payment plans
From the very beginning, working with our agents will be a memorable experience. At our Santa Ana Bail Bonds office, we take pride in treating each of our clients like family. We understand that dealing with an arrest is never pleasant, so we make sure you know you are not alone. Our 88 years of experience has taught us well when it comes to fast, efficient and completely confidential service. We offer our clients the best because we believe they deserve the best. We understand how the California bail bonds system works and we take the time to make sure our clients understand as well. The California Department of Insurance sets the state's mandated bail bonds rates. We are upfront with our clients about the premium and what it is used for. When you choose our bail bonds agency, you can rest assured you know more than you ever wanted to about bail bonds.
Our Agents Offer the Highest Level of Professionalism
It doesn't matter if you visit our office or call our toll free phone number. You will get the same exemplary service either way. It is our goal to treat each client with the utmost respect and dignity. Our staff is highly scrutinized and trained to handle every type of situation that might arise. At Santa Ana Bail Bonds, our staff must go through mandatory continuing education so they remain the most knowledgeable in their field at all times. They understand and can explain the rules and regulations associated with the bail bonds business. Each agent is continually assessed on their professionalism and level of customer service. We work hard to hire and train the best agents in the bail bonds business. Our team works well with one another and has established an ongoing rapport with local law enforcement officers and jail staff. This is how we make sure the bail bonds process goes smoothly from start to finish. Call our Santa Ana office at any time and talk to one of our agents. You will always speak to a live person when you call 714-543-7449.
We Offer a Fresh Outlook and Unique Approach
At Santa Ana Bail Bonds, our agents are fast and efficient. They have worked extremely hard to raise their level of responsiveness to new heights. Each agent will go above and beyond what is expected of them.
Our agents are some of the most well-respected and successful agents in the state of California. They are continually building their clientele by providing quality service that is efficient and confidential. Our reputation as an agency is above reproach. We are respected by lawyers, judges and government entities across the board. Local law enforcement officers and attorneys appreciate what we do for the community and continue to work with us on building positive relationships. Our ability to treat everyone with respect and dignity has helped us to gain that powerful reputation.
When you work with one of our agents, have no doubt that you will get the absolute best service possible. We provide top of the line service to each of our clients and make sure they are completely comfortable with the process. In Orange County, Steven Mehr Bail Bonds agents will do whatever it takes to make sure your loved one gets home safe and sound.